Our strategic planning offerings best serves organizations that are well-established, and want to connect back to or reimagine their core values, mission and purpose. For organizations doing this for the first time, check out Business Visioning.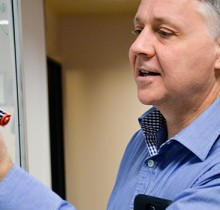 "Every single person, every single organization on the planet knows what they do, 100 percent. Some know how they do it…But very, very few people or organizations know why they do what they do."

—Simon O. Sinek Leadership Expert and Author
At Working INK, we help organizations define their WHY. And more importantly— we start with it.
When most organizations develop communication strategies, they start with what, then how, and sometimes they get to WHY. We begin with why. Then we explore how, and whether that methodology supports the purpose. When the WHY and the HOW are solid, the WHAT becomes limitless, because you've created a mission-based culture that engages your team and your community from a place of commitment and compassion.
Our Process
Through research, guided reflection, and collaborative exercises, we help organizations come together to redefine or clarify who they are and where they are going, so that they can articulate that communal vision to each other. We then develop that vision into actionable steps that move the organization forward in a unified direction.
This begins with your team clarifying their individual understanding of the Mission and Core Values of your organization. We then ask each of you how you want those values to define the organizational culture– what do those core values look like within you work place? Your professional sphere? Your community? What do you want them to look like?
These are more than building blocks – these become the tools employed to increase individual impact, improve employee satisfaction, and concretely identify your successes.
It will become clear if you need to re-evaluate your mission, your value proposition, or the way you communicate regarding either. Most significantly, this is the opportunity to co-create a sense of purpose with your team creating greater emotional and intellectual commitment to the work you do together.
We will help you find the words that allow you to express the above ideas collectively in everyday terms, further strengthening your ability to form partnerships, seek funding as a non-profit or for-profit organization, and engage with your community.
Throughout this process, we help organizations get in touch with the creative aspect of who they are. We press you to rethink assumptions while envisioning the best possible reality and eventuality of your work. If the future you see falls short of your goals we will challenge you to redefine your purpose or your approach to produce the results you do want. Then we translate these hopes into a map, one with meaningful miles stones for gauging progress, and driven by CLEAR goals.